I loathed this song..especially the 'woo hoo' part...

but somehow..for some odd inexplainable reason...it's kind of grown on me..

need assistance quick.
musical tastes down the drain...

speaking of drains..

my drain in the kitchen is clogged.

AGAIN.

I unclogged the sucker and bought a new sink dish thing...
you know, the thing you put the plates on to drain...

almost ten bucks...
Martha Stewart is really raking in the dough...

***
how is my hair gowth process coming along...??
Aside form the fact that I need to tie my hands behind my back to prevent me having a titty attack everytime I run my hands and feel a Simba Mane..it's all good...

I am now rocking the 'ohsosexy' headband that pulls your hair back and makes you look like you got botox look...

Seriously I kind of look like her...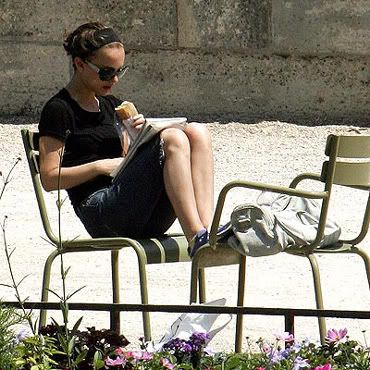 Only I am not Natalie Portman...

But it ain't that bad? is it??

As for games...
I STILL HAVEN'T WATCHED ONE SINGLE GAME..!!
CAN YOU BELIEVE THIS CRAP??!!

THERE IS ONE TONIGHT BUT I'LL BE AT VADER'S....ONLY ONE TV..AND MISS C...
SO NO GAME TONIGHT EITHER!!!!!

::sigh::

I need Tivo...