Sunday, November 12th, 2006
Luis Muñoz Rivera Park

Organized by: Autism Aliance of Puerto Rico and Other Related Disorders (The parent support group I belong to!! Hurrah!)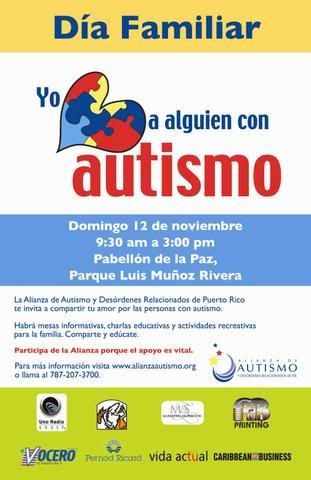 Why go?

Are you aware that 1 out of every 166 children are Autistic. Autism doesn't discriminate. It can affect you, your nephews, nieces, children, godchildren, cousins, etc.

Autism is a disorder that affects your social and speech skills, among other things.

It's time to educate the public and that the different leaders of this country, especially the Board of Education, do what they are supposed to do.

I know most of you guys can't go, but are cordially invited. I will be sure to post pics...

I was originally gonna go work there on Sunday, but due to logistics, I don't know if I will be able to. I don't have anyone to watch over Jaws. But I'll be there on Saturday setting up.

It's important for people to go and spread the word!

Why?

Because, I , Mary P., heart someone with Autism...Jaws..

And tomorrow, it could be you!