I was tagged by: Noemí...it's a meme about your kids and their nicknames...

I have only One Kid...but boy oh boy does this Kid have nicknames...galore...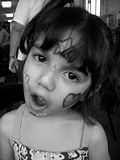 Where do I begin?
Well, when she born her father and I used to call her "hamberguita" / "little hamburger", because her cheeks were so big and so red...they looked like little beef paties...
Yeah...talk about marking a child...too bad I don't have any picture so I can prove it to ya folks...
Than as she grew older we started to call her "Chere" or "Miss C"...short for her real name...
In her day care they call her "Cherry" and I go by "Cherry's Mom"....
But me, being the mother of all mothers, I call her by several nicknames, all randomnly...
"Pancha"..."Amiga" (friend), "Chungui" (this one is me and True's favorite), "Luly" and "Chiru" , "Piru" (these last ones are my favorites....they are all my loving nicknames for her....
Lately she calls me "Piru" too...
Someone pointed out the other days: "why, you never call her daughter, or by her real name...you talk to her like if you were talking to a friend".
Yep. Of course.
I am "Chungui's" best friend.
Who do I tag?
anyone who wants ta'...