F.or
Y.our
I.nformation

Or

In case your wondering...


This is what it looks like when you have a boyfriend who is a DJ and has no where to practice for our upcoming show...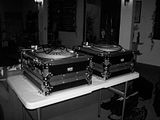 My living room is invaded by Turntables and Hip Hop.
::sigh::
Never has been an invasion so nice...
Now if only my ass can concentrate long enough to actually practice...